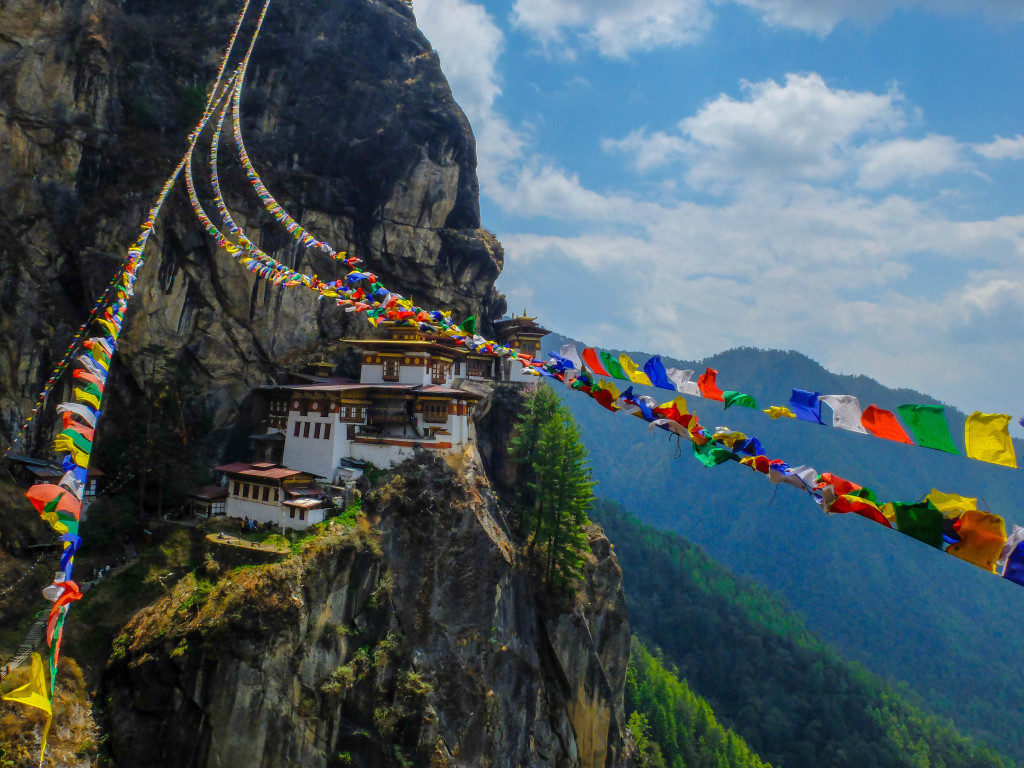 Tiger's Nest Monastery 
Ever since we arrived, I have been blown away, completely captivated by the land and people of this tiny country tucked inside the Himalayan Mountains. Our guide, "Sonam," means good luck and so far he lives up to his strong name. He is wonderful. Quiet and gentle, with a sense of humor and easy disposition. He is 25 years old but with the maturity and wise gaze of someone twice his age. An old soul.
Today we hiked to Tiger's Nest Monastery. Wow. What a remarkable moment in my life! I couldn't help but weep, just broke into tears with a sense of awe, complete and utter humility at the massive accomplishment of beauty, spirit, and love that this special place embodies.
The monk greeted us, kindly welcoming us inside with his deep and thoughtful eyes. He spoke softly but clearly, and I hung on his every word.
"Welcome. Please come in and sit. You do not need to be Buddhist to pray here. We are all together, every faith and religion is welcome in this holy place."
We enter and sit before the strong, imposing statue of Guru Rinpoche, their most revered deity. He rests, poised and monumental in front of me. My bare feet are cold against the solid wood floor. I sense the light mountain air quietly still inside the small room.
I feel tiny and whole all at once. My eyes brim with salty tears, not fully understanding why but completely lost in the moment. Gratitude overwhelms me.
I wish I could have let myself go completely, cry out in joy and appreciation of this moment. But there were others in the room, and I quickly gained composure. How I would have loved to spend the day, several of them in fact, meditating, praying, giving thanks for my incredible life and luck! Wishing the same for others.
It was a moment to remember forever.
No photos are allowed inside the temple walls. No bother, as my camera could never justly capture the rich colors of the mural walls, the remarkable faces of the protective deities, the soft glow of the burning butter candles, or the prayer wheels spinning.  What I hope to remember forever is the feeling of immense hope, of joy, of peace, that I felt inside those walls and that continues to grow and follow me.
Tomorrow is another day. We must wake at 4:30 am for a special blessing in the dzong, the village square. So off I go, to sleep in this chilly old farmhouse. Layered with heavy blankets, we sleep on the floor. Mountain dogs are barking outside, ferocious and wild. Our weary bones are warm again from the hot stone bath and local fare – butter tea, chili and cheese, dinner in the delightfully tattered kitchen with a couple of monks.
Just a another day in Bhutan.
Guru Rinpoche flew on the back of a tigress, subduing demons and meditating in this holy place that is now called Tiger's Nest Monastery. My ascent on two feet was not as fantastic, but no less magical.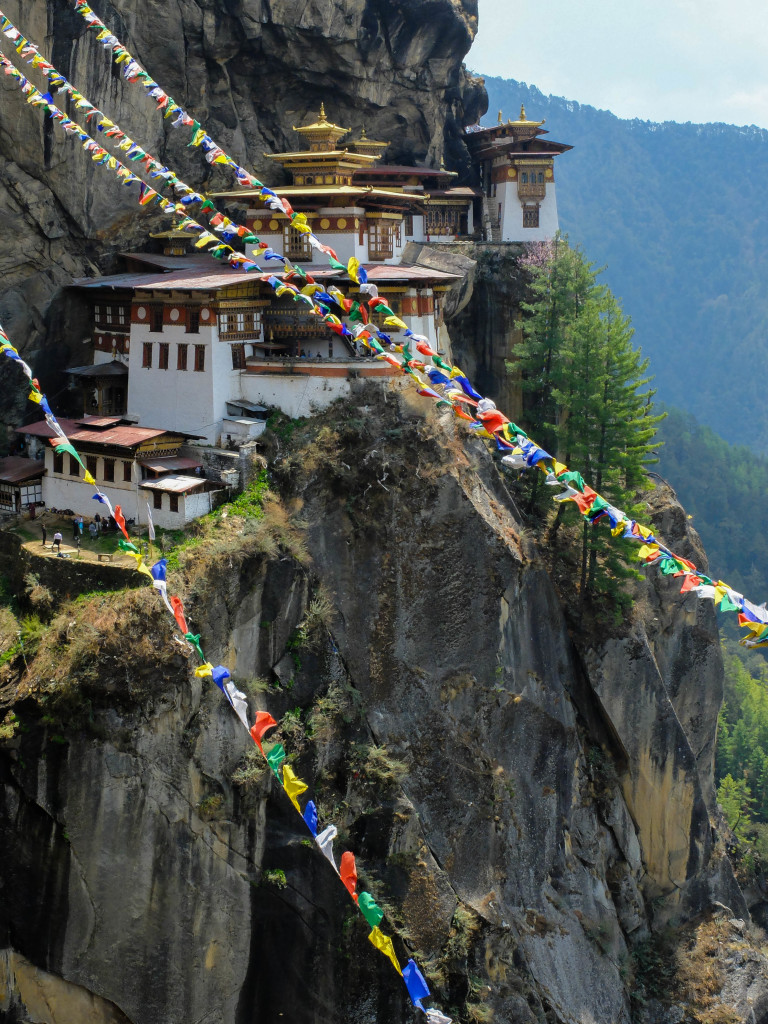 A vigilant young caretaker, curious as we pass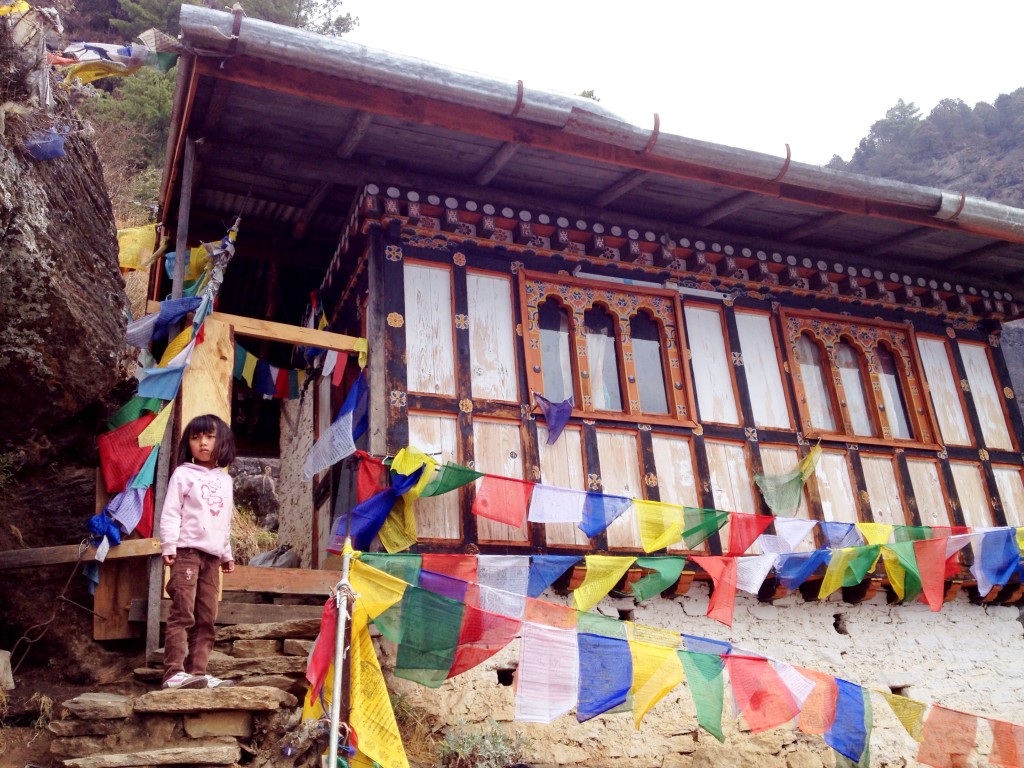 More lucky charms along the way
Our farmhouse stay
the digs…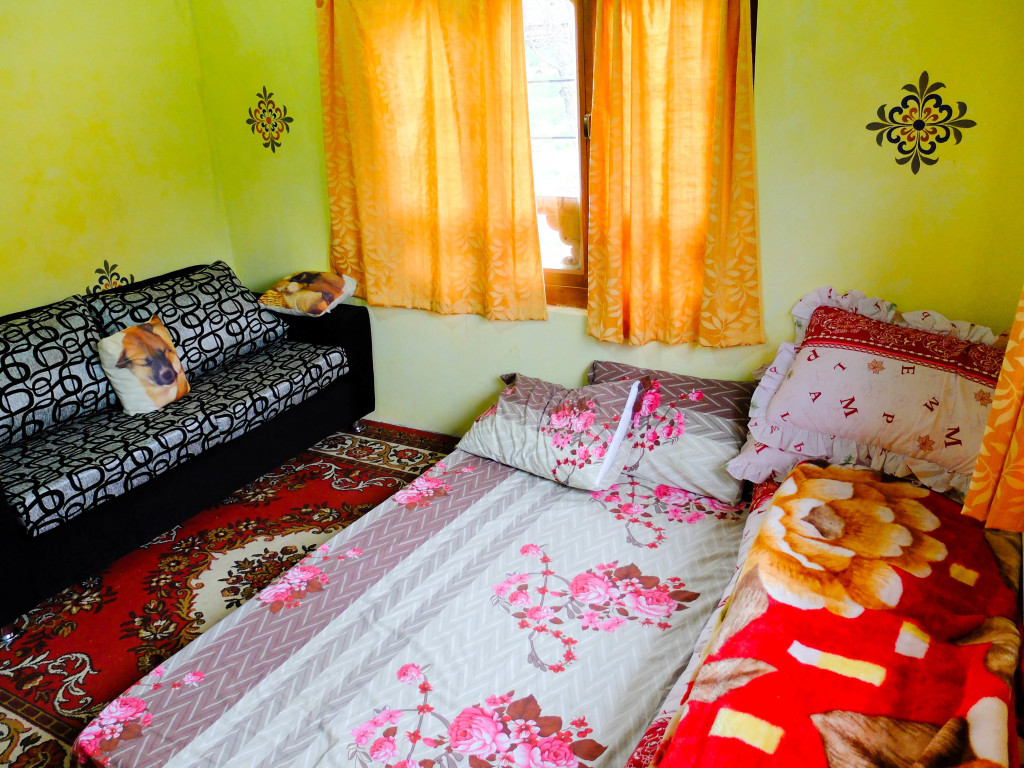 Greeted to some grains and butter tea upon arrival. Loving the decor of this farmhouse, and the butter tea tastes, well…..like salty butter water. Then dinner in the kitchen with some faithful friends.
Our unforgettable Bhutanese hot stone bath